There are two series of drainage board/ dimple membrane: roller material & sheet material. The roller material includes three types: thermal melting, lapping & self-adhered. The molding process adopts special technology to press the plastic sheet material with the closed convex columnar shell to form concave-convex film.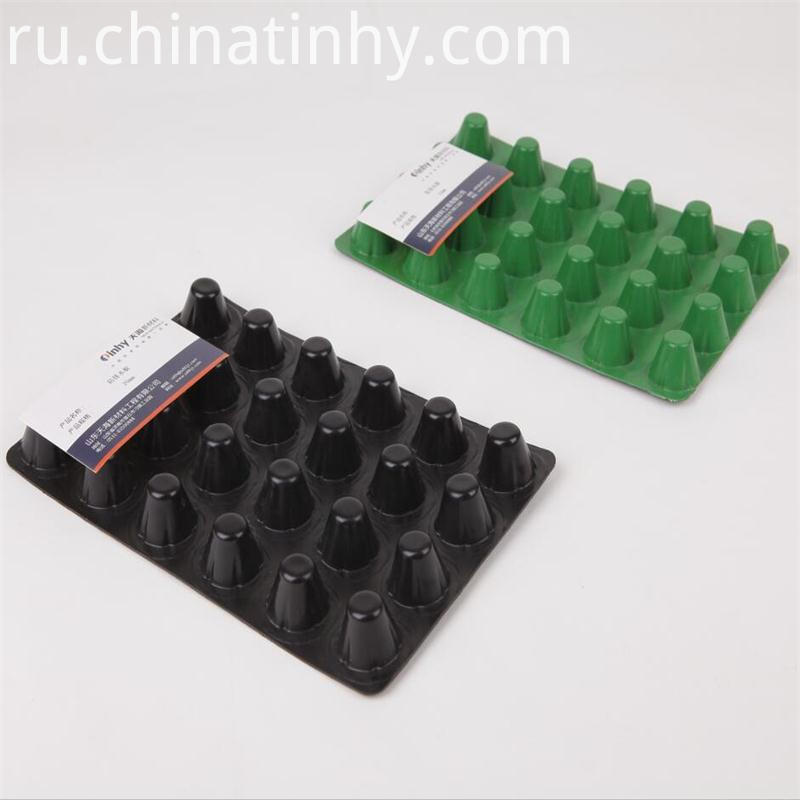 Our main products including geotextile, geomembrane, composite geomembrane, compound geomembrane, waterproof mdf board , GCL, green roof drainage board, compound drainage net, geogrid, geonet, geocell and so on
.
Drainage board Features:
1.Convenient construction, easy maintenance and economy.
2.Strong resistanc
e to load and durability.
3.The water can be partially stored and the remaining water can be drained quickly.
4.It provides sufficient moisture and oxygen for plant production.
5.Light weight, the roof heat insulation function strong
.
Application of Drainage board
Environmental protection, environmental hygiene (such as garbage landfill site, treatment of sewage, containment of poisonous or harmful wastes, hazardous warehouse, industry wastes, construction & explosive rubbish, etc)

Water conservancy (such as waterproofing, stopping up leak, reinforcement for lake, river, channels, tunnels, dams and reservoirs; vertical wall with core, slope protection, etc)

Municipal engineering (expressway, subway, underground engineering of building; and liner of roof pool, roof garden's waterproofing, sewage channel, etc)

Garden (backing & slope protection of artificial lake, pool, golf course's pond)

Petrochemicals (liner secondary lining of chemical reeaction tank and deposit tank from chemical plant & refinery; seepage control of oil tank from gas station)

Mining (backing seepage of washing pond, heap leaching pond, ashery, dissolved pond, deposit pond from the stack and tailing)

Traffic facilities (highway foundation reinforcement, culvert stopping up leak)

Agriculture (stolling up leak for reservoirs, drinking pools, storage ponds and irrigation system)

Aquaculture industry (seepage control for sea cucumber circle's slope protection, liner of fish pool & shrimp pond)

Seepage, corrosion, leaks control & reinforcement for other facility, leachate collection

Temporary container structure, prefabrication of special parts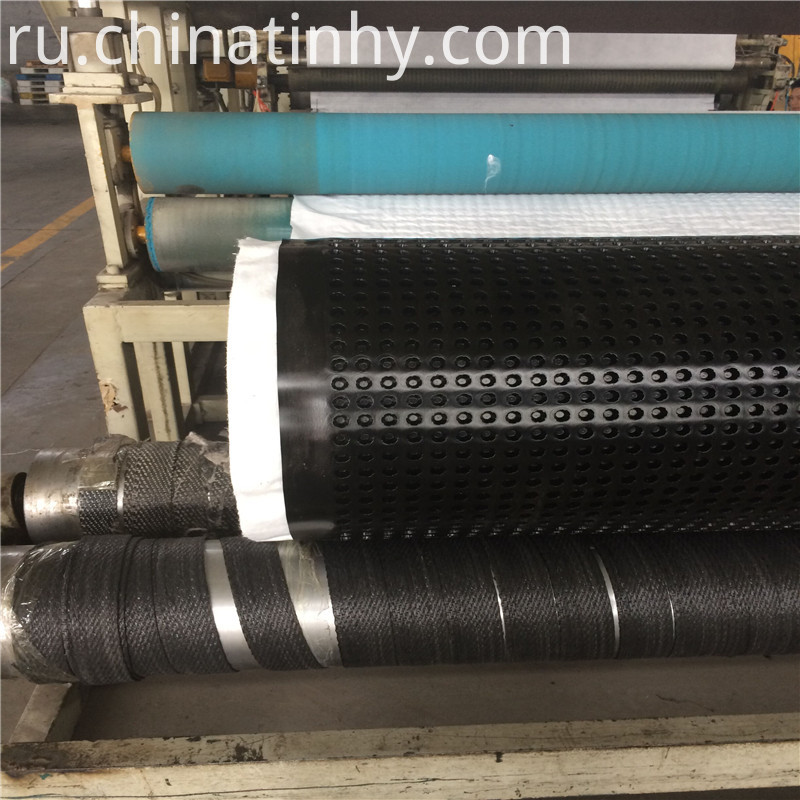 Parameters of
Drainage board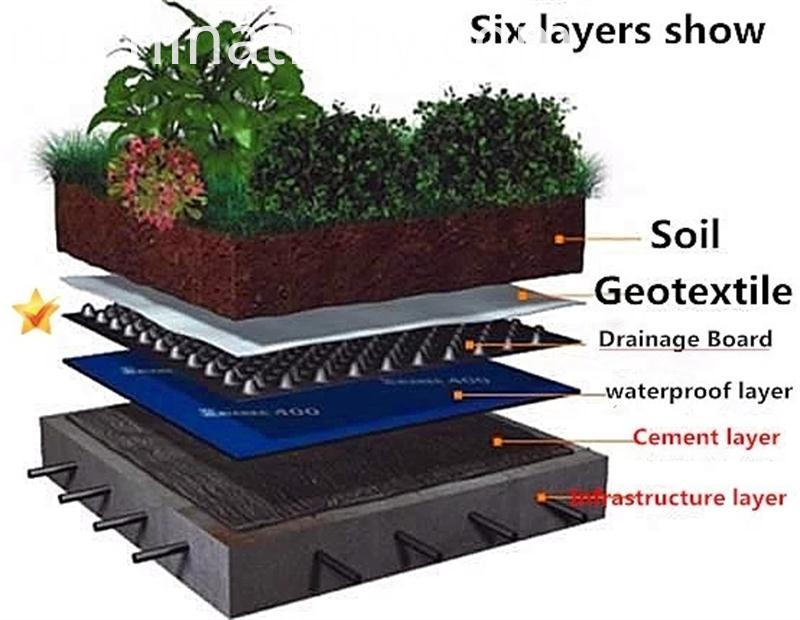 We guarantee the quality of HDPE Plastic Dimpled Waterproofing Drainage Board Sheet
applied the production of raw materials by our close cooperation with the manufacturer of raw material and strick materials into plant inspection procedures. Advanced equipment and experienced, skilled operator, to creat a stable high quality products.
Indenpendent QC department could do inspection for each volume product before delivery, to ensure that everyone of the factory product can meet standards by tight system control operations, maximize our quality to meet customer's requirements. And has been recognized by the international organization for standardization though the ISO9001:2000 certification, our quality control level meets the international standard
.
Production Process
Our major production facilities include three-layer construction film blow machine, calendering method geomembrane production line, the first company to introduce 8.5m width geotextile production linb, 7m width compound gemombrane production line, GCL production line as well as the patent technology first 3m width forming in only one time drain board production line to produce a variety og geosynthetics
.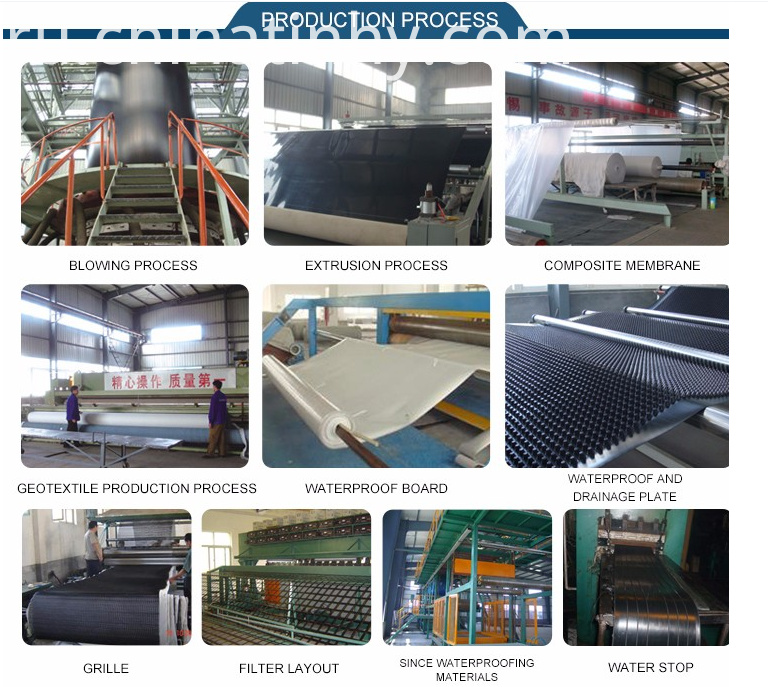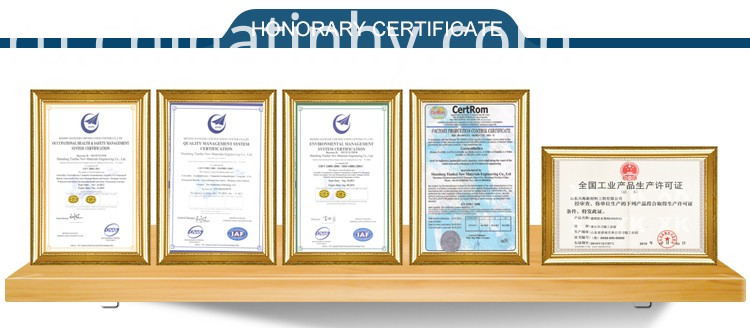 Packing & Shipping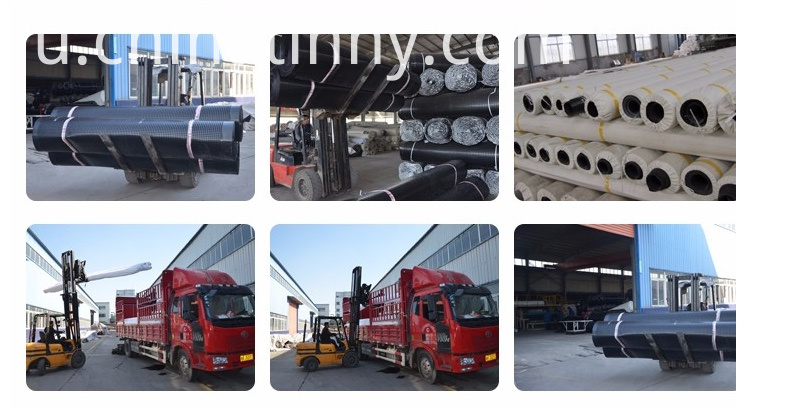 Project Cases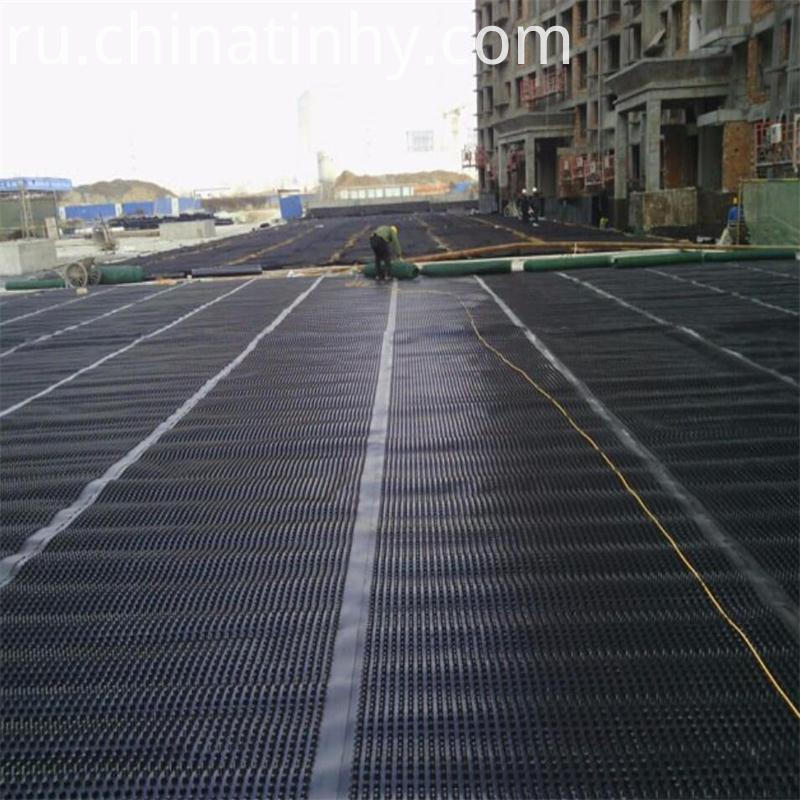 Our Service

Группа Продуктов : Дренаж Лист > Листа Дренажа Димпла